News & Resources
Here you'll find information about OptEM's upcoming and past events, access to software technical support, links to download technical papers, and links to other resource information we find interesting and helpful.
Upcoming Events
Trade Shows
IWCS: November 11-13, 2013- OptEM will be exhibiting in booth207at the International Cable-Connectivity Symposium (formerly the International Wire & Cable Symposium) in Charlotte, NC, USA. The IWCS is the world's premier venue for the presentation of new and original wire and cable industry technologies and trends. OptEM will demonstrateOptEM Cable Designera software tool used for accurate modeling and analysis of high-performance multi-conductor shielded and unshielded twisted-pair, quad, ribbon, subsea umbilical and specialty cables, as well as flex circuits from DC to 10 GHz.
Paper Presentations
OptEM will present a paper entitled "Impact of Manufacturing Tolerances on Cable Design Optimization" at the IWCS in November 2013 in Charlotte, NC, USA. The paper presentation details are as follows:
Paper Name - Impact of Manufacturing Tolerances on Cable Design Optimization
Date - Tuesday, November 12, 2013
Time - 11:00 A.M.
Session - Session 4, paper number 4-7
Room - MR217A
Abstract - Tolerances of characteristic impedance, attenuation and time delay of an STP and a Twinax cable with skin-foam-skin insulation are calculated from tolerances of selected material and dimensional parameters of the cable. The method is used to provide some internal justification for cable quality based on manufacturing tolerances and to provide lists of critical manufacturing parameters that control tolerances of characteristic impedance, attenuation and time delay of the STP and Twinax cables.
Training
OptEM Cable Designer software training - see ourschedulefor the next 2-day training course nearest you. Don't see a scheduled course that's convenient for you? Pleasecontact usand we'll see what we can arrange.

Past Events
DAC June 2013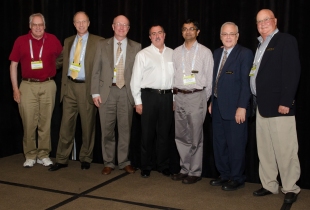 OptEM was presented with an Exhibitor Recognition Award for 20 or More Years of Participation at the Design Automation Conference. TheDACis the premier conference and tradeshow covering the latest trends in electronic design and design automation (EDA). This year's DAC celebrated 50 years of innovation in EDA with a special banquet and ceremonial events at the conference. OptEM was pleased to receive this award and participate in this special event.
OptEM also presented theOptEM Inspectorsoftware at the 50th Design Automation Conference in Austin, TX, USA. OptEM Inspector is a software tool used for layout-to-circuit device and interconnect RC and substrate extraction of deep submicron analog, digital and mixed-ICs.
WAI April 2013
OptEM presented a paper entitled "Optimizing Shielded Pair Manufacturing" at the Interwire Trade Exposition, 83rd WAI Annual Convention in Atlanta, GA, USA. The paper examines a method for estimating the expected tolerance of cable propagation properties based on available manufacturing tolerances and calculated sensitivities. For more information please review the paperabstract.
The Wire Association International(WAI)Inc. is a worldwide technical society for wire and cable industry professionals governed by volunteers from around the world.Interwireis an international trade event that includes exhibitors, speakers and attendees working in a variety of industries including automotive, construction, aerospace, transportation, communication, among others.
Software Release
October 2010 - Release of OptEM Cable Designer version 6.5.0 with new Advisor Modules:
Pair Advisor - iteratively calculates conductor and insulate diameters which fulfill a selected standard using assigned design properties for a shielded or unshielded pair.

Lay Length Advisor - calculates the lay lengths of a four-pair cable based on assigned design properties and ratios between NEXT resonance frequency and the maximum frequency for diagonal and side-by-side pairs.